The Essential Guide To LPG Cylinders In Singapore
31 Dec 2021
Introduction 
Gases like liquid petroleum gas, typically known as LPG, are clean-burning, non-poisonous, reliable, and high-performance fuels. They are stored and transported in liquid state inside cylinders, and are typically drawn out as gaseous fuels when in use. Generally, LPG is made from crude oil (also known as petroleum) or extracted from natural gas streams beneath the ground. As it is generally stored in gas cylinders, LPG is a convenient, portable source of energy. 
When LPG is released from a gas cylinder under normal atmospheric pressure it changes from liquid to vapour. In the process of changing from liquid to vapour, LPG expands 250 times in  volume. This property enables a lot of LPG to be compressed and conveniently transported in a compact pressurised gas cylinder, which makes it one of the most convenient fuels for consumers.
In Singapore, many households use LPG cylinders for cooking, if you are the type who would like to learn more about the product that you are using, this article will walk you through an overview of the various types of gas cylinders for home and business use, how to deal with gas leaks, how to find reliable gas suppliers in Singapore and the price range of gas cylinders.
Part 1 – LPG Cylinders In Singapore 
1.1. Types Of Gas Cylinders For Home And Commercial Use 
At SingGas, we strive to make cooking a breeze for all of our customers – whether you are using the hob, tabletop, double or single burner, or even the traditional ring burner. The calorific value of LPG is higher than that of other energy sources such as natural gas, diesel, petrol, and fuel oils. LPG has a higher calorific value compared to natural gas, and thus LPG has greater heating efficiency. This means that, in order to get the same amount of heat energy from LPG as natural gas, you will need to use more natural gas. The flame temperature of LPG is also higher than natural gas. 
At SingGas, we offer a range of gas cylinders that are not just limited to domestic use. In addition to being an efficient fuel for cooking, our gas cylinders are also used for various types of industrial and commercial applications. The following are the different types of gas cylinders we offer to homes and businesses in Singapore: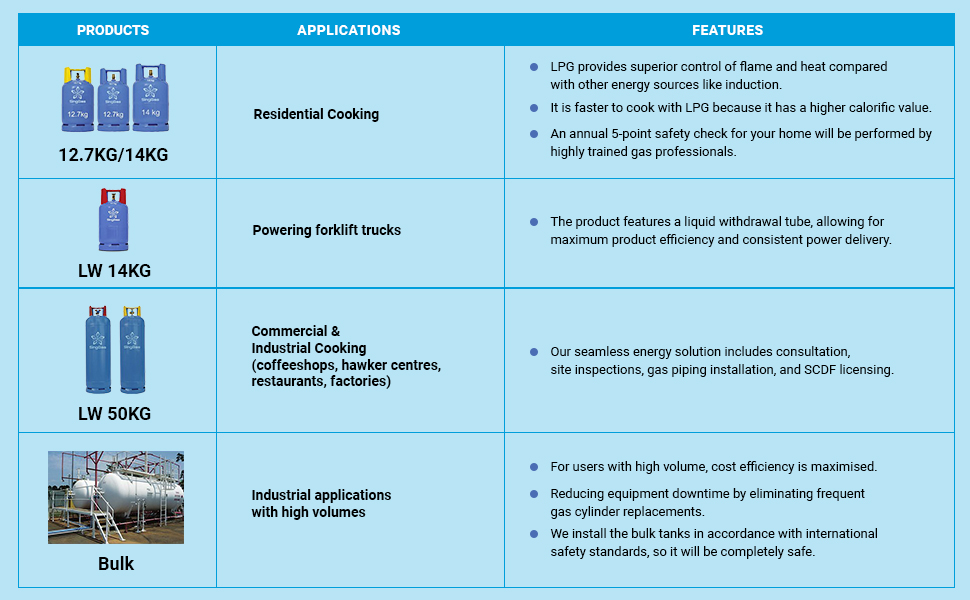 How to place an order for gas cylinders in Singapore?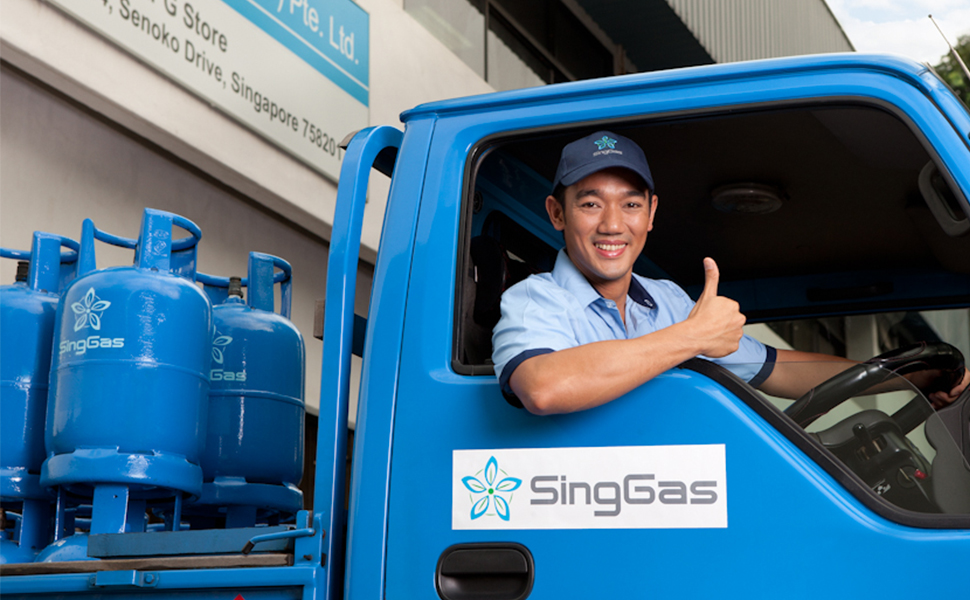 With SingGas, you can be assured that your gas cylinders will arrive at your doorstep in a timely manner – from the time you schedule your delivery to the time the gas cylinders arrive at your doorstep.
Our 24 hours gas delivery is pretty straightforward – all it takes is one click on our website or one phone call to our hotline. It's really that simple and convenient!
2.2. Why Is LPG The Better Option For Your Home? 
In terms of efficiency, LPG is a superior cooking fuel. With its excellent heating capacity, you can cook your food in less time and save a lot of money on fuel. Because it undergoes complete combustion and leaves no residue or particulate matter behind, it requires less maintenance and leaves a smaller carbon footprint. 
There are a host of benefits linked to the use of LPG. These include benefits to your health, your kitchen, and the environment. Here are some of the reasons why LPG cylinders are a better option for your home:
1. Efficiency
Compared to natural gas, coal, or other common fuels, LPG is an energy-rich fuel with a higher calorific value (heating value). LPG burns hotter and more efficiently than any other fuel source, so you get better heating and a better value for your money.
2. Portability
Gas cylinders can be delivered easily throughout Singapore, making LPG a very convenient fuel source. Moreover, most homes in Singapore are equipped with a proper storage space to safely store gas cylinders in the kitchen.
3. Better Control
 Using LPG allows for more precise cooking. You can adjust the intensity or size of the visible blue flame in order to achieve the desired heating rate, which will allow you to cook to your desired temperature.
Quick and easy temperature control is essential for precision cooking. In many recipes, you need high heat to begin with, but you also need the ability to reduce its temperature quickly. Whatever you are cooking, working with LPG allows you to be more precise. 
As compared to using induction or ceramic induction cookers, you will have better heat control with less guesswork involved. 
4. Rapid Ignition
The instant heat provided by LPG allows you to start cooking as soon as you ignite it. LPG can drastically reduce the waiting time for cooking most meals since you need your pan to be piping hot in order to start cooking. 
Part III – LPG Safety Tips
3.1. Dealing With Gas Leaks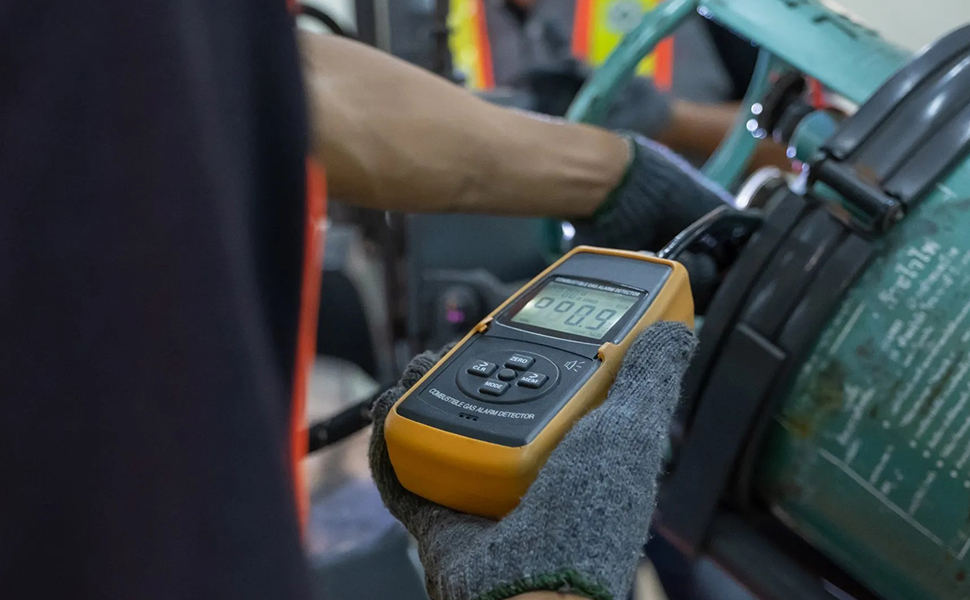 LPG cylinders are commonplace in our everyday lives, as they are a necessity for cooking. . Even though our gas cylinders are safe to use, we should always be prepared in case of unforeseen circumstances, such as a gas leak. It is important to know how to identify and what to do in case of a gas leak at home.
Gas regulators, hoses, other components of LPG appliances can malfunction or wear out over time and cause gas leaks.
Here is a step-by-step guide on how to deal with a gas leak: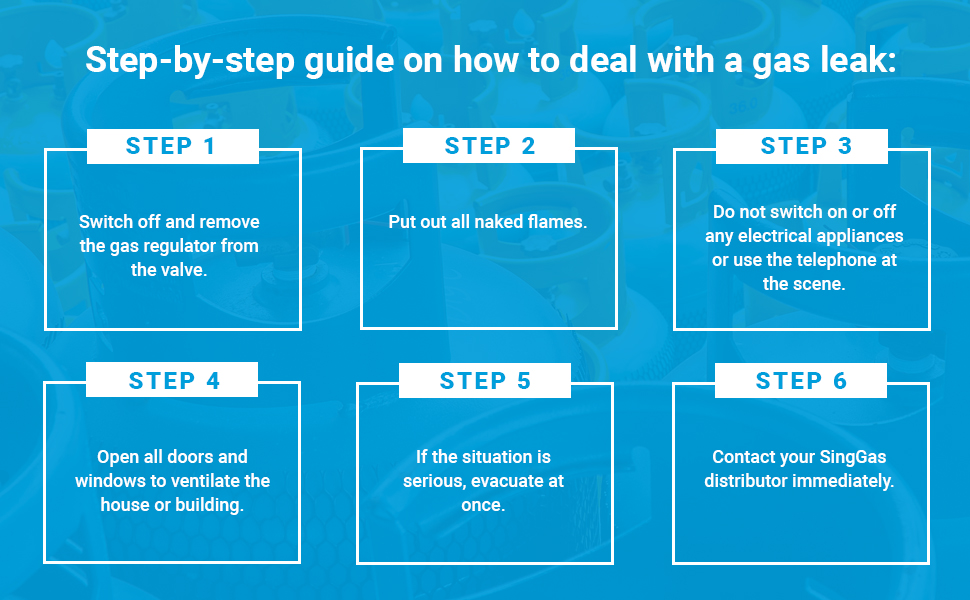 What Causes A Gas Leak?
Gas leaks can result from defective rubber hose (which connects the gas cylinder's outlet to the burner), faulty gas regulator fittings, or poor handling of gas appliances. Additionally, unattended cooking can cause the food to spill over, which will douse the burner and cause a gas leak.

How To Recognise A Gas Leak?
LPG is commonly used for heating, hot water, and home appliances in many homes. Because natural gas has no smell, a small leak would be impossible to detect. In addition, a hissing sound may not always be present. Because of this, your utility company adds a harmless odorant  (Ethyl Mercaptan) to the gas.The odorant smells like sulphur or rotten eggs, which helps you detect gas leaks. 
Below are possible signs of gas leakage ::
distinct odor similar to rotten eggs or sulphur is detected near the LPG system

There is a whistling or hissing sound near the stove or gas connection area

Damaged  connection to a gas appliance observed.  This can often lead to cause gas leakage
Preventing A Gas Leak
Below are safety measures which can help prevent gas leaks:
1. Ensure Safety Mark affixed on LPG regulators and hoses
Only purchase gas cylinders and LPG accessories from authorized distributors to ensure the quality and safety of
your LPG system.
Your gas regulator and hose should come affixed with the Safety Mark . LPG gas regulators and hoses are controlled products in Singapore.  Controlled products affixed with the Safety Mark verifies that the products complies with the safety standards of the Consumer Safety Authority in Singapore.
2. Regular 5-Point LPG Safety Checks
Schedule regular 5-point safety checks ( at least once a year)  by your gas supplier. Regulator, hose and burners must be checked for defects and wear and tear. Replace faulty or expired LPG accessories. Call us at 65559222 to schedule your free 5-point LPG safety check.
3. Inculcate Safety Awareness
Be on the alert for any signs of leakage (e.g. hissing sound from burner connection points, or smell of sulphur or rotten eggs which indicate gas leakage)
Never use lit match-sticks or candles to look for leakages.
4. Ensure adequate ventilation
Ensure there is sufficient ventilation in the kitchen where you use gas burners.  Adequate ventilation will prevent the build-up of gas  which can cause flash fire explosion.
5. Switch off gas regulator when away from home
Turn the gas regulator knob to 'OFF' position when you are away from home for an extended period.
6. Keep flammable items away from the LPG system
Cleaning supplies and paints, which contain flammable materials, should be not be stored near gas appliances.
3.2. How To Safely Handle LPG At Home 
Knowing how to use your gas cylinders safely at home is extremely important. Gas cylinders should never be tampered with on your own. Whenever you come across any problems with your gas cylinder, please get in touch with us right away. Here's a quick guide to how you can safely handle your gas cylinder at home: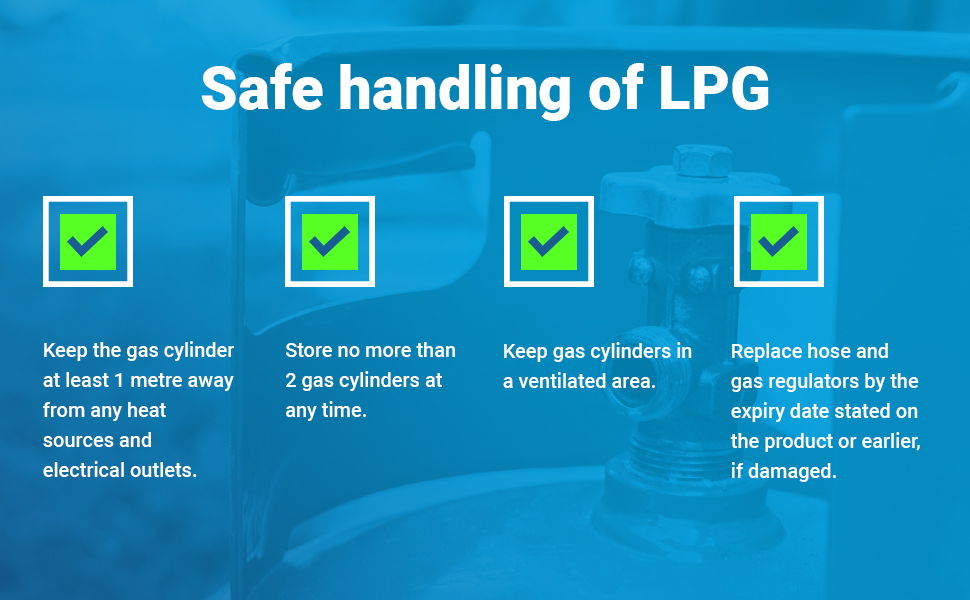 You should purchase your

LPG

from an authorised dealer such as SingGas

A five-point safety check should be done on your

LPG

system by your

LPG

dealer at least once every year, this includes the hose, regulator, hose clips, cylinder and joints/connections.

Gas cylinders

should always be kept upright and never horizontal.

Gas cylinders

should be kept away from open flames, heat sources and electrical outlets.

There should not be any naked flames around when you change the

gas cylinder.

The number of spare cylinders at home should not exceed one, and the cylinder should be stored upright in a ventilated cabinet.

Gas tubing/hoses should be replaced on the expiration date marked on the tubing/hose and

gas regulators

should be replaced every five years.
We recommend that you arrange for a safety check of your LPG system for your safety. Call our hotline at 6555 9222 to schedule a free LPG 5-point Safety Check done by our highly trained gas professionals.
How To Dispose of Gas Cylinders?
When a gas cylinder is no longer required, contact your gas supplier to arrange an appointment to collect back the gas cylinder.. When you place your order for a gas cylinder with SingGas, not only will our  gas delivery driver help replace your old gas cylinder with a new one, but we will also assist with the disposal of your old gas cylinder.
3.3. How To Find The Right LPG Supplier In Singapore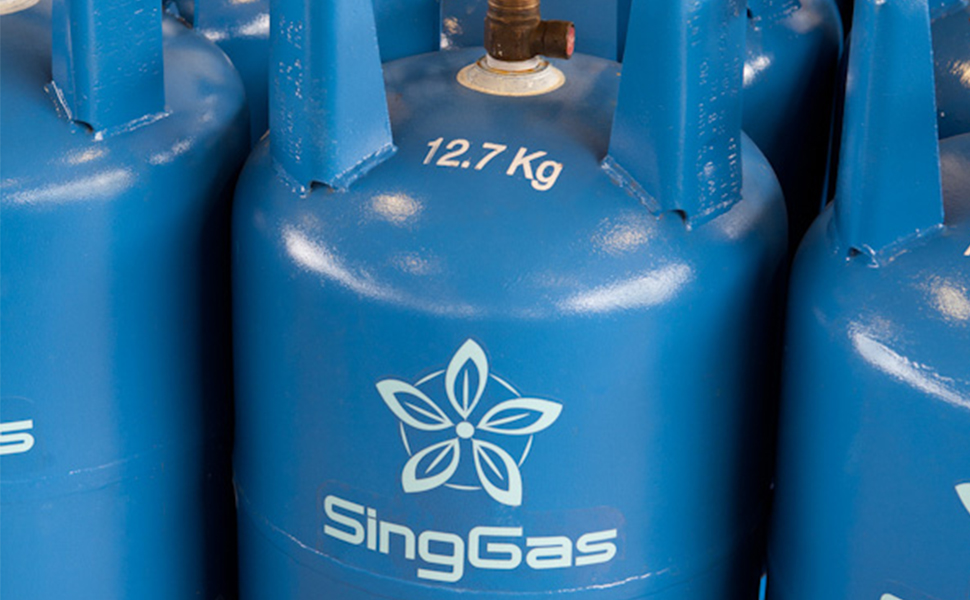 Selecting a reliable supplier of LPG in Singapore can be a difficult and time-consuming task, whether it's for home or business use. In order for you to secure a reliable supplier, there are a variety of things you need to consider. Customers typically hope to build a long term relationship with their LPG suppliers, but when you choose a reliable gas supplier like SingGas, you will enjoy seamless uninterrupted gas supply for your business.
In this section, we will share what are some of the important things to consider when sourcing for a reliable gas supplier in Singapore.
1. Product quality & Safety
When it comes to selecting a gas supplier, product quality is always the top priority. It is not wise to use low-quality LPG cylinders as it might not match your expectations or worse, it might cause an unfavorable incident. Before you engage a gas supplier, read reviews, feedback, or testimonials regarding the quality of their products. This will give you a rough overview of the quality of the gas cylinders and their service as well.
 With SingGas, we have strict quality control at our filling plant that follows international standards. Furthermore, our highly-trained gas delivery personnel are expected to perform a five-point safety inspection on the LPG system. We also have automated weight checks at our filling plant, so you are assured there will be no underweight gas cylinder for any of our customers.
2. A wealth of experience
The experience of the gas supplier in Singapore plays a key role in the selection process. It is often the experience of a company that speaks for itself. A long history in the industry is a testament to how many businesses have trusted them and continue to partner with them. 
Having over 40 years of experience in LPG distribution, SingGas is dedicated to ensure safe and quality LPG for our customers.
3. Effective communication & hassle-free ordering process
A successful partnership is built on a strong communication foundation. By doing this, the gas supplier is able to know more about the client and how to meet their needs. It is crucial for the gas supplier to have friendly representatives who provide the clients with reliable and helpful customer service.
In the event that you are interested in knowing more about SingGas, our customer service team will be happy to share information and answer any questions you may have regarding our products and services. In fact, our SingGas Customer Service is available 7 days a week to serve you and your needs, simply give us a call at 6555 9222 to reach us!
We provide island-wide and speedy gas delivery to your homes too. With our online store that is accessible 24/7, ordering gas cylinders has never been easier. We offer our customers the convenience of our online store and hotline so they can place order for gas delivery easily.. Simply go on our e-store to place your LPG cylinders orders, pick your preferred delivery date, and you're good to go!
Conclusion
We hope this article has helped you gain insights into the different types of gas cylinders, how they are used, safety tips and how to find the right gas supplier. You will be able to make informed decisions when selecting your gas supplier and deciding on the type of cylinder product, whether they are for commercial or household use.
Gas cylinders are completely safe when used correctly. 
Choosing SingGas For Commercial And Industrial Use
1. Consultation
Here at SingGas, we provide transparent and reliable gas consultation to fix your gas requirements. No matter if you are just starting your business or looking for a trusted gas supplier, we can guide you on the most cost-effective way to utilise your gas supply in your day-to-day operations. 
2. Site inspection
A site inspection is an important task for an LPG supplier since it reduces the risk of fire accidents and facilitates smooth workflow. Prior to gas pipe installation, we conduct a comprehensive site inspection free of charge for all our clients to ensure a safe and efficient set up.
3. Gas piping installation
As your professional gas supplier, we can ensure that your gas piping is installed in a safe and efficient configuration to meet your needs. We also take care of periodic servicing and maintenance of the piping at your site from time to time through our professional maintenance team.
4. SCDF licensing
Before you can start using your LPG manifold system, you must have the LPG Fire Safety Certificate and LPG storage license (if required) issued by the Singapore Civil Defence Force (SCDF).  To ensure our clients receive SCDF licenses in a timely manner, we work with registered professional engineers and inspectors who are registered with SCDF.
Choose SingGas as your LPG distributor
SingGas specialises in providing LPG to households, restaurants, hawker centres, coffee shops, and factories. Please feel free to complete the Enquiry Form here should you have any questions regarding our products or services, and we will be sure to get in touch with you as soon as possible!